Preventing Water & Salt Stains on Glass
The Challenge
Glass is everywhere you look… from building facades, cars, bathrooms and more.
Despite its high aesthetic value, glass can be easily stained and marked from water droplets and dirt. Tap water contains soluble salts that, upon evaporation of water, solidify on the surface while rainwater picks up dust and other pollutants in the air that can leave marks.
Accumulated water stains and salt deposits are difficult to clean and leave a dirty appearance that can be hard to maintain.
What if there was a solution which did not allow water to sit on and stain the surface of glass?
The Solution | Enviro SurfaPore G
Enviro SurfaPore G solves this problem by transforming glass surfaces from hydrophilic to hydrophobic (water-repellent) without affecting the transparency of the glass. Water droplets are unable to "stick" on glass surfaces and as a result stains are prevented.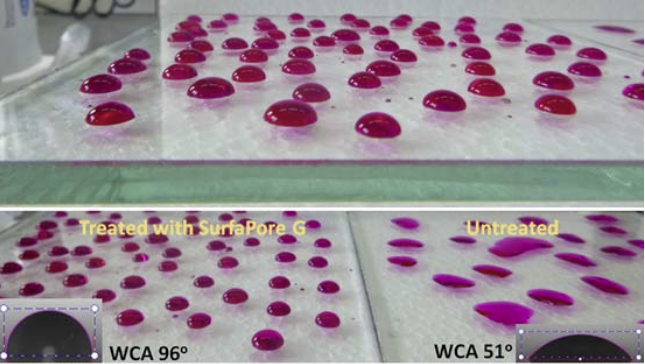 How to Apply
The application surface must be clean, degreased and dry. Shake before application. Apply by using a clean and dry microfiber cloth. Maximum effectiveness is achieved 24 hours post application. Slight cleaning of the surface with a cloth after application is recommended for further homogenization of the film
Durability
Enviro SurfaPore G will last up to 5 years depending on the application.