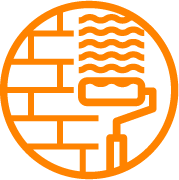 Primers
Primers are an important part of all applications as they improve the bonding characteristics of coatings to substrates.
Primers penetrate into the substrate to seal the surface allowing an improved bond. Failure to use a primer may void product warranties.
Primers can be used for a variety of purposes such as improving adhesion to substrates or providing protection against corrosion.
Our solutions have been tried and tested, allowing you to benefit from our technologically advanced systems on your project.
Envirosystems has a complete range of primers to work with your project specification needs, and offers you technical advice and support with product selection.
Be sure to follow the Envirosystems process when applying waterproofing membranes to ensure strong adhesion and lasting protection.
PREPARE
Always prepare your surface properly prior to priming to make sure maximum adhesion of your protective covering.
PRIMING
Priming is just as critical as preparation. Your primer will depend on the coating to be applied and the substrate being applied.
APPLY
Apply your covering according to the ratios described in the Product Data Sheet.
COMPLETE
Prepare surface for a final hand over for a topical finishing e.g. tiles or a protective topcoat.