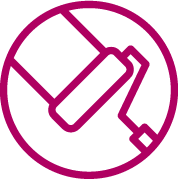 Coatings
While protecting against water, UV, frost and other challenging climatic conditions that can cause decay and wear, our coatings also improve the look of a weathered facade.
Our solutions have been tried and tested, allowing your project to benefit from our technologically advanced systems.
Our coatings come in a range of colours; for specific project requirements we can also produce custom colours.
Our diverse range of coatings are suitable for large scale commercial developments as well as small DIY projects.
Need advice?
Fill out our enquiry form and our expert Advice team will get back to you about your request.
Contact Us
Need Accessories?
Spray bottles, rollers, stirrers and more. Find what you need here.
View Accessories
Be sure to follow the Envirosystems process when applying waterproofing membranes to ensure strong adhesion and lasting protection.
PREPARE
Always prepare your surface properly prior to priming to make sure maximum adhesion of your protective covering.
PRIMING
Priming is just as critical as preparation. Your primer will depend on the coating to be applied and the substrate being applied.
APPLY
Apply your covering according to the ratios described in the Product Data Sheet.
COMPLETE
Prepare surface for a final hand over for a topical finishing e.g. tiles or a protective topcoat.