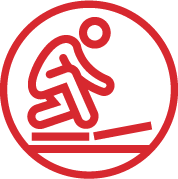 Flooring
Envirosystems designs and manufactures a number of products specifically developed to protect and prolong the service life of structures that are often exposed to high traffic and chemical attacks.
Our range of Enviro Epoxies are designed and developed in Australia to suit the needs of a variety of industries, whilst still providing measurable benefits to our customers and the environment.
Suitable for high-end aviation and aerospace facilities, warehouses, car parks, commercial kitchens, showrooms and medical facilities across a variety of applications.
Anti-microbial and bacterial resistant, meaning they are free from the most common hospital-acquired infections.
Slip resistant, wear & abrasion resistant finishes that are low maintenance and customisable to job specifications.
With project specific product choices and selections advice, Envirosystems offers a complete range of flooring solutions to cater to your detailed needs.
Need advice?
Fill out our enquiry form and our expert Advice team will get back to you about your request.
Contact Us
Need Coatings?
Finishing your flooring system usually calls for a topical sealer. Find what you need here.
View Coatings