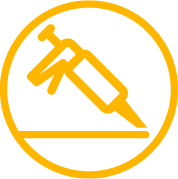 Sealants
Our surface sealants work by forming a thin film over a substrate creating a hard-wearing, UV stable and dustproof layer while our penetrating sealants work by penetrating the pores of a cementitious or natural stone substrate to fill the voids with a silicone-based compound.
Our joint sealants are typically used to seal joints where a moderate degree of differential substrate movement is anticipated.
All sealants in our range provide excellent adhesion and have an abundance of useful applications in residential, commercial, and industrial developments.
Our range of premium adhesive products are simple to prepare and apply, with no complicated instructions or ratios.
Need advice?
Fill out our enquiry form and our expert Advice team will get back to you about your request.
Contact Us
Need Accessories?
Caulking guns, trowels, stirrers and more. Find what you need here.
View Accessories