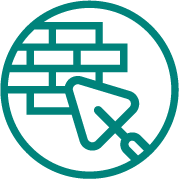 Remedial
From epoxy grouts and mortars to crack injection resins, Envirosystems has a solution to restore the integrity and quality of your project giving you the confidence that the issue has been resolved once and for all.
Through collaboration with builders, engineers and architects, our technical team has developed a variety of remedial products to cater to all types of problems.
High grade remedial solutions are Australian made for Australian conditions and have been used to restore and repair significant heritage buildings.
Resolve poor design and installation issues across a number of residential, commercial and industrial spaces.
Our expanding range includes; moisture tolerant primers, injection resins, repair mortars and more.
Hydrophilic and Hydrophobic injection resins
Repair mortars and moisture tolerant Primers
Elastomeric waterproof membranes
Need advice?
Fill out our enquiry form and our expert Advice team will get back to you about your request.
Contact Us
Need Accessories?
Spray bottles, rollers, stirrers and more. Find what you need here.
View Accessories