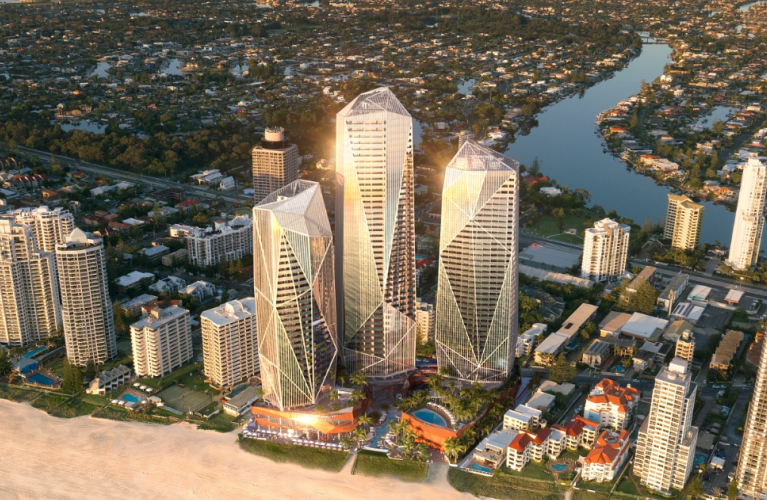 The Jewel
BROADBEACH, QLD
The Jewel will be Australia's largest beachfront mixed-use development and the first absolute beach front development on the Gold Coast in more than 30 years.
CONTRACTORS
Multiplex
SIZE
15,000m2 +
THE ENVIROSYSTEMS SOLUTION
The luxury development is located on Old Burleigh Road in Broadbeach, the three-tower development will include a three-level podium, a six-star hotel comprising 171 suites and 512 one, two and three-bedroom luxury apartments and premium residences. The development will feature three levels of basement parking to accommodate 816 cars.
Envirosystems Technologies was selected to be the supplier of environmentally responsible waterproofing solutions for the development of The Jewel at Broadbeach on the Gold Coast in Queensland.
A number of Enviro solutions have been used across this project, including our Enviro BSM – a pre-applied, composite HDPE sheet membrane system that is designed to waterproof the blind side of concrete slabs and walls.
Enviro BSM is composed of:
Heavy Duty HDPE, which provides the waterproofing integrity of the Enviro BSM system.
Pressure sensitive, reactive adhesion layer, which activates during the concrete pour and forms a continuous bond with the structural concrete.
Trafficable protective layer, which protects the Enviro BSM during steel-fixing before the concrete is cast.
When used in a systematic fashion, this complete system provides a versatile and innovative solution
to the waterproofing of various below grade structures.
PRODUCT DETAILS
High Performance, Solvent Free, Spray Applied, Hybrid Elastomer Membrane
Related Projects