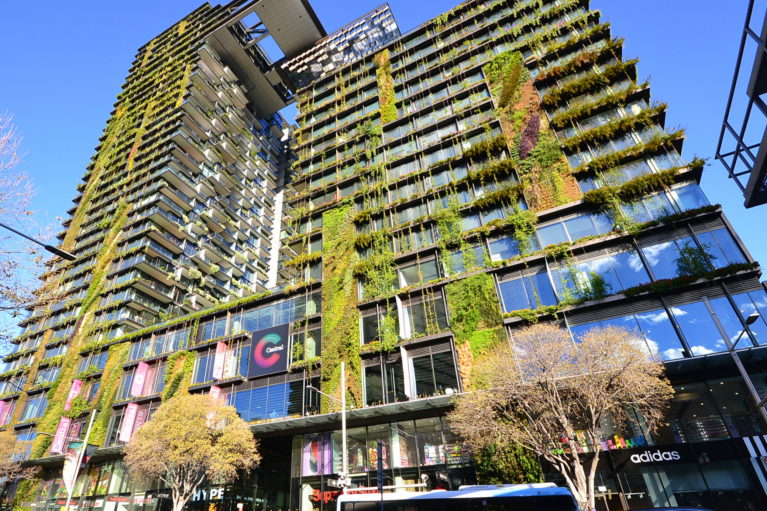 One Central Park
SYDNEY, QLD
Designed by a world-leading team, One Central Park is inspired by the people of Sydney and its spacious, landscaped gardens welcome nearby communities into its heart.
THE ENVIROSYSTEMS SOLUTION
A multi-stage $2 billion urban village, with a diverse collection of over 2,000 residential opportunities, parklands, shopping centre, retail and dining and entertainment areas, this iconic green building is one of Sydney's newest downtown destinations.
Enviro HP1200 is just one of the many Envirosystems solutions installed across this project. Enviro HP1200 is a two component, spray applied, solvent free, flexible, 100% solids polyurethane waterproofing membrane. Uniquely formulated to provide high elasticity, tensile and tear strengths while also possessing excellent abrasion resistance HP1200 is one of Envirosystems most popular waterproofing technologies.
Based on similar applications on tier one construction projects around Australia, Enviro HP1200 was selected to be used to waterproof a wide variety of areas at One Central Park Sydney including:
Internal wet areas
Plant rooms
Podiums
Planter boxes
Roof deck areas
Enviro HP1200 is a low VOC, no solvent based odourless system that complies with the latest Australian Standards for external above ground waterproofing. Australian made for Australian conditions, our state of the art environmentally friendly technology aligned with the green design of this landmark project.
Supported, tested and backed by a team of specialist local experts with a combined 200+ years of experience Enviro HP1200 proved to be a high-quality and low-risk alternative to other waterproofing products on the market giving our clients peace of mind for decades to come.
PRODUCT DETAILS
High Performance, Solvent Free, Spray Applied, Hybrid Elastomer Membrane
Related Projects