High Performance Sprayed Elastomers
The practice of ensuring that a structure is waterproof is a fundamental element to the success of any project. Envirosystems offers a complete range of high performing liquid waterproofing membranes that have been used on a variety of major tier one construction projects globally.
The Enviro HP Series consists of a range of premium spray applied polyurethane and polyurea elastomers that offer ultra-fast curing and superior waterproofing properties backed by extended warranties when applied by accredited applicators.
What are elastomeric polymers?
An elastomer is a polymer with a high viscoelasticity that is often interchangeably used with the term 'rubber'. Thermosetting sprayed elastomers are extremely fast setting and curing (gels in 5-8 seconds), tack free in 30-60 seconds and foot trafficable within minutes.
Advantages
Elastomeric polymer coatings are seamless & provide a robust barrier to water/vapour & physical/chemical attack
These coatings are extremely fast track applications
Can be applied to a wide variety of substrates
High range of service temperatures from -30ºC to +150ºC
Good abrasion and impact resistance, yet remains fully flexible
Environmentally friendly, 100% solids with a low VOC content
Virtually maintenance free
Long life expectancy and proven track record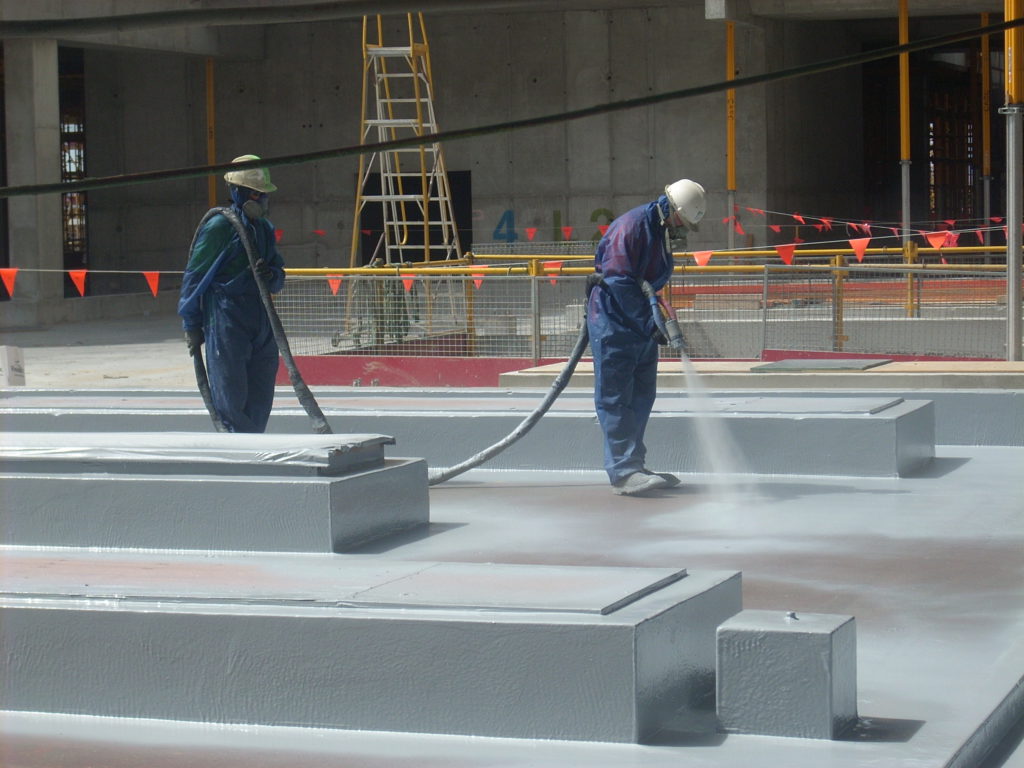 The flagship product in the Envirosystems range – Enviro HP1200 has quickly become the number one choice in sprayed elastomers with architects, specifiers and tier one builders in the construction industry. Australian made for Australian conditions with a design life of 100 years, Enviro HP1200 is fast curing, has a very low VOC content and is environmentally responsible providing the complete high-performance membrane solution.
Enviro HP1200 fast curing capabilities – gels in 8 seconds.
Applications
Trafficable roof decks
Podiums & blinding slabs
Marine structures
Gas mitigation barriers
Underground tanks
Green roofs
Bund tanks
The aliphatic member of the HP Spray Series, Enviro HP1200AC provides all the hallmark performance attributes of the foundation HP1200 product with the added feature of high resistance to long-term UV exposure. This product is ideally suited for swimming pools, lagoons, external steel structures and chemical bund areas where waterproofing, UV stability or an extreme protection coating is required.
Applications
Swimming pools
Green roofs & roof tops
Water containment struucture
Water tanks
Retaining walls
Enviro HP1600 is a next generation pure polyurea with a proven track record in below grade waterproofing and gas mitigation. Spray applied at high pressure using a plural component proportioner, it gels in 8 seconds and cures with a Shore A hardness up to 100. Exhibiting high abrasion and chemical resistance, Enviro HP1600 meets the waterproofing and coating requirements of even the most demanding and challenging conditions.
In addition to exhibiting excellent waterproofing capabilities, Enviro HP1600 is a proven barrier against the ingress of methane and other gases into building structures. With the custom designed Envirosystems Gas Venting System, Enviro HP1600 was installed across the entire footprint of the Crown Towers project in Perth WA, delivering a safe and environmentally responsible outcome.
Applications
Trafficable roof decks
Podiums & blinding slabs
Marine structures
Gas mitigation barriers
Underground tanks
Green roofs
Bund tanks
Application Equipment
Graco are known as the 'go to' for plural component sprayed elastomer machines.
Recommended for use with Australia's most popular polyurea/polyurethane – Enviro HP Sprayed Elastomer range.
Sales & service of E-10HP & E-XP2i offered at Envirosystems.
Envirosystems can 'teach you how to spray' using both the machines and the flagship Enviro HP Series.