Below Grade Waterproofing with Enviro BSM
Early Works, Building Foundations, Retaining Walls, Lift Pits & More...
With over 85% of Australia's population living within 50km from the coast and 66% living in capital cities (www.abs.gov.au), the importance of protecting structures against ground water/ water table is paramount. The Enviro BSM system has been specifically developed to avoid expensive remediation costs associated with ground water ingress.
When installed, Enviro BSM provides a fully bonded, blindside waterproofing membrane system to encapsulate the concrete structure, thus preventing water ingress or migration.
Enviro BSM
Enviro BSM is a pre-applied composite HDPE sheet membrane layer system designed to waterproof the blindside of concrete slabs and walls, providing complete protection of any structure from groundwater ingress.
A unique and construction friendly feature of Enviro BSM is that it has a trafficable granular surface layer allowing tradespersons to conveniently carry on their work during the installation phase.
With a claimed adhesion exceeding 5,000Nm the pressure sensitive adhesive layer ensures it fully bonds to the blindside of the concrete slab. When installed, Enviro BSM provides a fully bonded waterproofing membrane system to encapsulate the concrete structure. It also can be used as a methane gas barrier when construction is being undertaken on reclaimed land or where the presence of methane is detected.
Chemical & gas resistant- In addition to its waterproofing integrity, Enviro BSM is able to be used as a methane gas barrier and possesses excellent resistance to a variety of stressors.
Easy application– Lightweight rolls, with a simplified installation procedure, allowing for a shortened construction period.
Fully adhered lap joints– Allows for a fully bonded, blindside waterproofing system, mitigating the risk of failure.
Trafficable- Enviro BSM is able to withstand full construction traffic, while providing a non-slip surface for subsequent trades.
Improved construction scheduling- Steel and concrete placement can be immediate, and the Enviro BSM system is not affected by premature contact with water.
Versatile- Enviro BSM can be applied to a variety of substrates including concrete, formwork and compacted fill, and its effectiveness is not compromised by foundation settlement.
Environmentally Friendly- Enviro BSM is free of any base coat or open flame operation which reduces the cost of resources, and eliminates safety risks.
Concrete foundations & walls
Concrete slabs on the ground
Lift pits
Swimming pools
Below grade water tanks
Cut & covered tunnels
Enviro BSM is a pre-applied, composite HDPE membrane system comprised of:
Heavy Duty HDPE (a)
Pressure sensitive, reactive adhesion layer (b)
Trafficable protective layer (c)
The pressure sensitive, self-adhesive membrane (b) and fresh concrete can form an effective, impenetrable barrier as the fresh concrete infiltrates through the trafficable protective layer (c).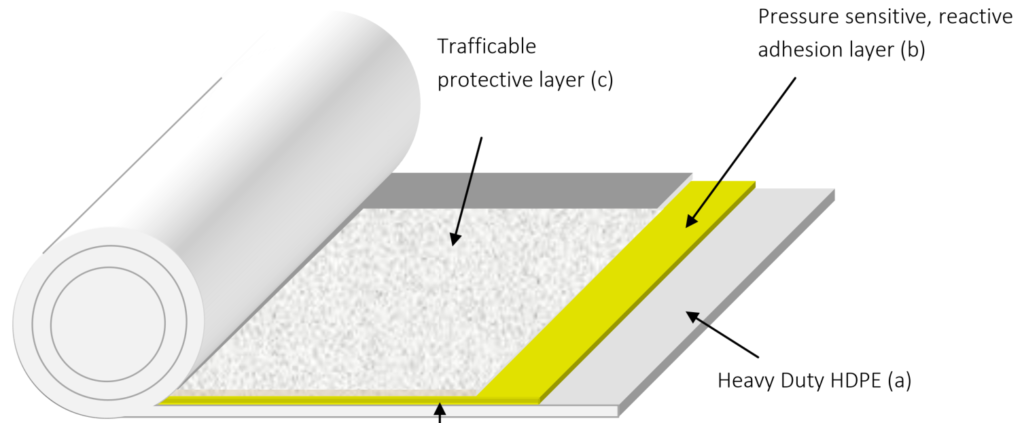 As the mass of the structural concrete increases during the concrete pour, the pressure sensitive selfadhesive membrane is 'activated' and forms a continuous adhesive bond with the concrete poured against it. This results in excellent adhesion through the development of substantial intermolecular forces.
After the structural concrete has cured, the space between the Enviro BSM waterproofing membrane and the structural body of the cured concrete can achieve a maximum, permanent seal, so as to eliminate the flow of water and the ingress of deteriorative agents to the structural concrete.
Application of Enviro BSM is only conducted in accordance with training provided by Envirosystems and by experienced accredited applicators only.
Our team can provide detailed membrane installation drawings, check only the dedicated application equipment is used, and ensures that manufacturer sign off occurs at critical stages throughout the project.