Protecting Porous Surfaces from Water, Oil & Stains
The Challenge
Porous materials such as concrete, marble, granite or limestone are a commonly used building material both indoor and outdoor around the home or public areas – but being absorptive by nature means they are subject to staining.
This can not only degrade the aesthetic appearance of those sensitive surfaces but oil, dirt and water can penetrate into the material causing irreversible damage. 
So, how can you protect these surfaces from damage without changing their natural appearance?
Envirosystems offers 2 solutions.
Solution 1
Protection from Water with Enviro SurfaPore C
Enviro SurfaPore C is a water-based formulation, specifically designed to harness the power of nanotechnology to provide water repellency and protection to a wide range of porous surfaces. As its viscosity is similar to that of water, it deeply penetrates into the pores and capillaries that typical elastomer or polymer formulations cannot reach.
Enviro SurfaPore C can be used on any areas that need protection from water and water-related problems such as chloride ion penetration, salt corrosion, efflorescence, mould growth and rising damp. It is a long-lasting UV resistant solution that does not yellow while allowing the treated surface to maintain high breathability (ensuring it does not swell or crack due to trapped moisture).
Solution 2
Water, Oil & Stain Protection with Enviro SurfaPore M
Enviro SurfaPore M is a similar product to Enviro SurfaPore C in that is protects porous surfaces from water – but in addition to being a water repellent, Enviro SurfaPore M also protects porous surfaces from oil and dirt stains.
The core nano-sized particles are engineered to fit the pores of the applied surface, penetrating and "flooding" the pores. After coating, water, oil and dirt fail to penetrate the pores of the substrate, providing easy cleaning and permanent protection against stains. This solution is also long lasting and UV resistant, and also maintains high breathability of the treated surface.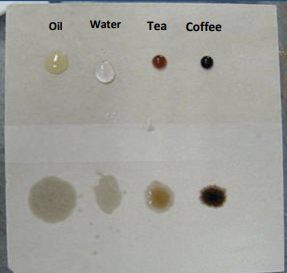 Marble treated with Enviro SurfaPore M (top) and untreated (bottom). Tested with oil, water, tea and coffee.
Oil droplets on a porous, cementitious surface treated with Enviro SurfaPore M.
Durability
Enviro SurfaPore C and Enviro SurfaPore M are expected to last up to 5 years, depending on the application and location of the treated surface.