Anti-Graffiti Protection Solutions
The Challenge
While for certain people graffiti is considered art, majority consider it as defacement and vandalism when applied to private properties or public buildings.
On porous surfaces, graffiti staining can be disastrous. The removing process requires significant effort and most of the times without the desired results. The problem with porous surfaces is that the use of solvent-based cleaning products will result in deeper stain penetration.
Why?
The solvent dilutes the ink and the diluted ink then spreads to neighbouring clean surfaces. When evaporation of the fast-drying solvent occurs, it results in the staining of surfaces that the graffiti ink had never originally touched.
So how do you get around the problem of graffiti removal?
The Solution | Enviro SurfaPore AG
Enviro SurfaPore AG (Anti-Graffiti) is a water-based graffiti protecting coating. It contains nanosized particles that fit into the pores of a surface, penetrate, "flood" and seal the pores that can accumulate graffiti.
These nanoparticles have the ability to self-polymerize and create an impermeable 3D network which binds permanently onto the pores and the surface. Paint simply sits on the top of the 3D network and does not adhere to the surface.
The Enviro SurfaPore AG treated surface effectively repels graffiti stains up to 5 times without the need of reapplying. Enviro SurfaPore AG is not just another wax formulation for Graffiti removal. This is why it only needs reapplication after 7 staining-cleaning cycles.
Enviro SurfaPore AG formulation is the only formulation that binds on the surface and actively repels stains and graffiti.
Application
The application surface should be dry and clean. No dilution is required.
Apply 2 coats of Enviro SurfaPore AG by brush, roller or spray gun on the existing vertical surfaces. For non-absorbing surfaces (shiny marble, granite surfaces), remove any excess by using a damp absorptive towel or paper.
Continue polishing the surface, until no apparent wet residue is visible on the surface. Absorbing surfaces (plaster, flamed stone) will absorb most of the applied SurfaPore AG. Ensure that there is no wet residue left after 5 minutes from application, by using a moist cloth.
It is recommended to remove graffiti as soon as possible from the damaged surfaces. To achieve that you have to use a stiff brush and warm water, or alternatively, a steam cleaner is ideally recommended.

Maximum effectiveness is achieved a week after application.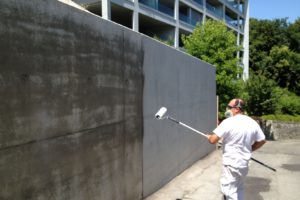 Application of Enviro SurfaPore AG by brush.
Appearance after application.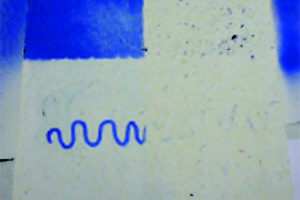 Anti-graffiti effect on a porous surface. Right half-side is coated with Enviro SurfaPore AG and subjected to cleaning under hot-water, without scrubbing.